Topless one piece swimsuit customer reviews and resources
Shop for Women's topless one piece bathing suits
It is very difficult to not only find where to purchase One Piece Topless Swimsuits and Topless Bathing Suits for women, but it is even more difficult to find relative information on topless swimwear from real customers. We have compiled here information not only on where to purchase topless swimwear, but we have also supplied real life reviews from customers who have themselves purchased these swimsuits. We have provided links to the actual reviews so you can see for yourself their authenticity.
The first suit we have for you is the Versailles Topless One Piece Thong Bathing Suit. This suit is designed by Brigite, exclusively for Brigitewear International and is made in California. This suit first came to market in 2003 and has undergone no changes. It is available in Black and designed for function as well as fashion. The cut and durability of the swimsuit make it suitable for all water sports as well as other activities such as beach volleyball. Below are two photos of this topless swimsuit along with several customer reviews going back to 2013. The suit sells for about $60
Versailles Topless Swimsuit - Customer Reviews
Average rating:

---

Inspiring11/11/2013
By Valley Girl
Excellent quality and the cut shapes and accentuates a woman's lines like no other. I cannot recommend this suit enough to inspire your partner. One of my all time favorite suits! Be sure to plan to make an entrance wearing heels and perhaps a sun hat if in the daytime, while your partner waits for you in the jacuzzi. Makes a great impression for either a private engagement or a topless resort, or even make a statement while entertaining in your jacuzzi another progressive couple.
---

Sexy and Modern11/11/2013
By Sergio Rodriguez
this is one of the most modern and sexy swimwear, I have found, in addition to comfortable for psicina or the beach, especially for trips to the latter I encourage you to continue in this line of design, especially in the series of suits one piece bathing topless This model is also ideal to come out as the Santa Lucia model type Rio from behind also ideal for intimate occasions surprise in couple, thanks for your store and catalog
---

Versailles Topless Swimsuit11/11/2013
By Tiffany G
Great suit, very comfortable and the perfect item for a romantic getaway of lounging in the comfort of my backyard with my significant other. Very flattering and exciting, commands a lot of attention!
---

Nice Suit 09/20/2014
By Sally Roe
Looks Great, husband loves the way it looks on me and shows my assets . Fits nice. Very nice, love the stares I get from both sides when we the thing. Sally
---
The next topless swimwear product featured in the St. Lucia One Piece Topless swimsuit also from Brigitewear. This bathing suit features a Rio bottom with a deep scooped back and is available in Black. As with the topless Versailles suit, this product is also ruggedly designed and adapts readily to all outdoor activities. Introduced in 2005, this swimsuit seems to be very popular for the customer who is not comfortable in a thong.
St. Lucia One Piece Topless Swimsuit - Customer Reviews
Average rating:

---

beautiful 08/14/2013
By Sergio Rodriguez
I like your store to buy, from home and so easy is a classic design but very original and very comfortable especially for the pool and beach I found your
shop through youtube and google congratulations on your products
---

Everyone benefits!! 09/29/2013
By Win B.
Arriving home from the post office, I wasted no time trying on my Brigitte-wear St. Lucia Topless One Piece. The Love of My Life nearly fell over from joy,
as I modeled it for him on our deck. The gorgeous day invited a sensuous day of sun bathing. As Himself said,"Everyone needs to have sexy days like
this." This product arrived very quickly. it's beautifully made, the Rio bottom fits just right, creating a very long leg line. The waist area is especially
flattering, giving my already trim waist an even leaner look. I will surely order more items from Brigite-Wear.
---

perfect fit 11/04/2013
By gary bos
Just as described. No disappointments here!
---

Great experience 09/34/2015
By Jana Doebler
Just a new style what offers many different possibilities of womens appearance. Either real topless and naughty or by different variants what shows not
all of female charmes but enough to get a plenty of attention. White shirt or any other sheer top - yeah! Pretty good idea! Very hot!
---
The Riviera is the next featured topless swimsuit. Again, manufactured in California by Brigitewear, this bathing suit is available with a thong or a Rio style bottom. The bathing suit is made from a Lace material and not really suitable for any activities because it is a very delicate material. It is beautifully crafted and features jeweled accents.
Riviera Topless one piece - Customer Review
Average Rating:

---

Love 07/08/2015
By Stacy Crane
I absolutely loved this suit! I have a large bust. Very curvy hips. And a small waist. This suit flattered my shape in all the right places. Just wish I could wear it around our pool. ;) Instead I'll have to stick with clothing optional resorts. ;) Note. The material is on the frail side. I wore it for 3 days in a row. Nothing crazy. Just lounging by the beach. I just don't see it holding up to last as long as how much I paid for it.
---
The Brigite Convertible topless swimsuit is a very unique topless bathing suit also from California's Brigitewear. This suit is designed with a thong or Rio bottom option and has an added feature that lets the wearer add any one of several top options to a ring in the front of the bathing suit. This allows the suit to function as a monokini style or with the removal of the scarf like top, wear it as a topless one piece.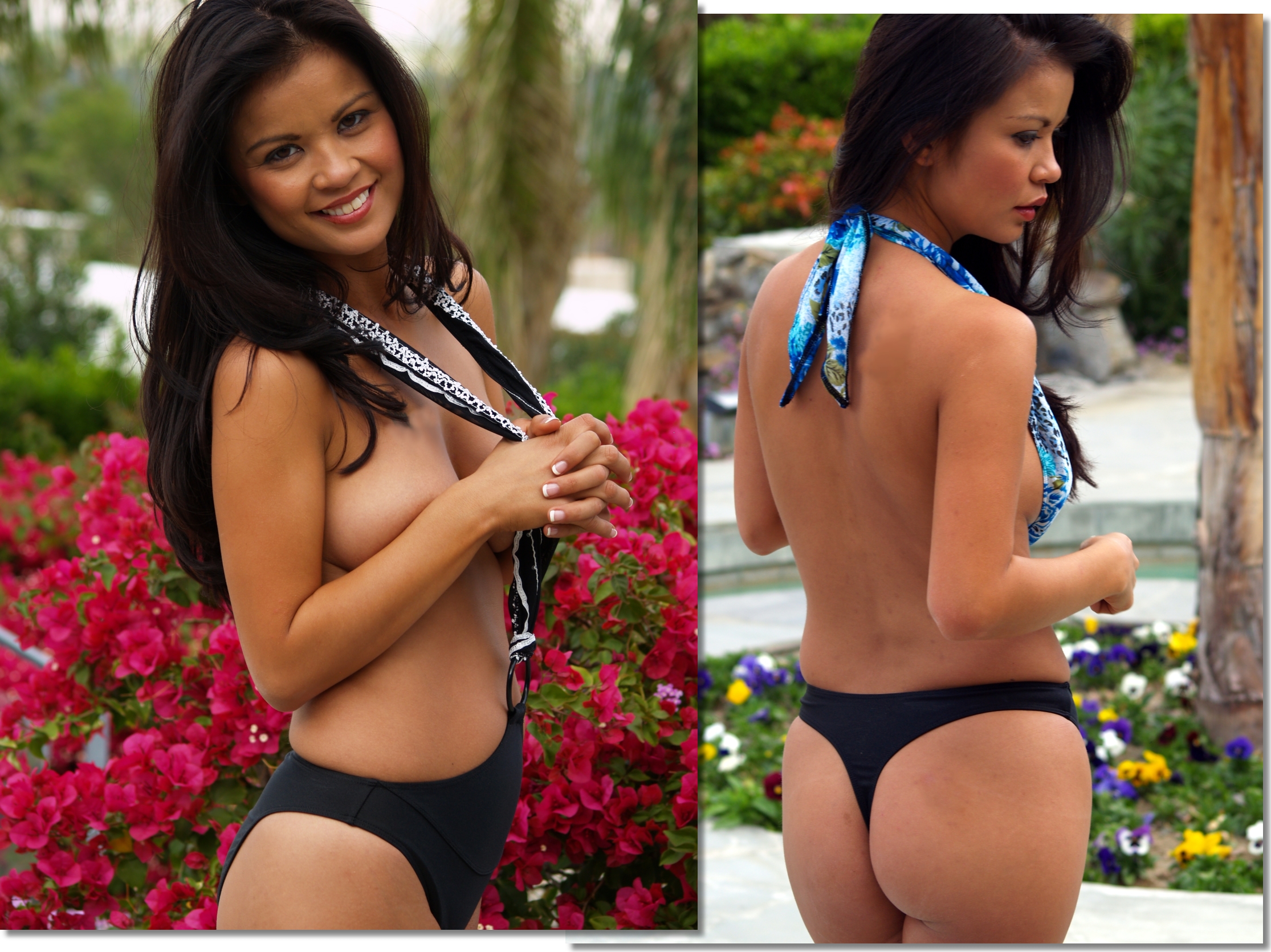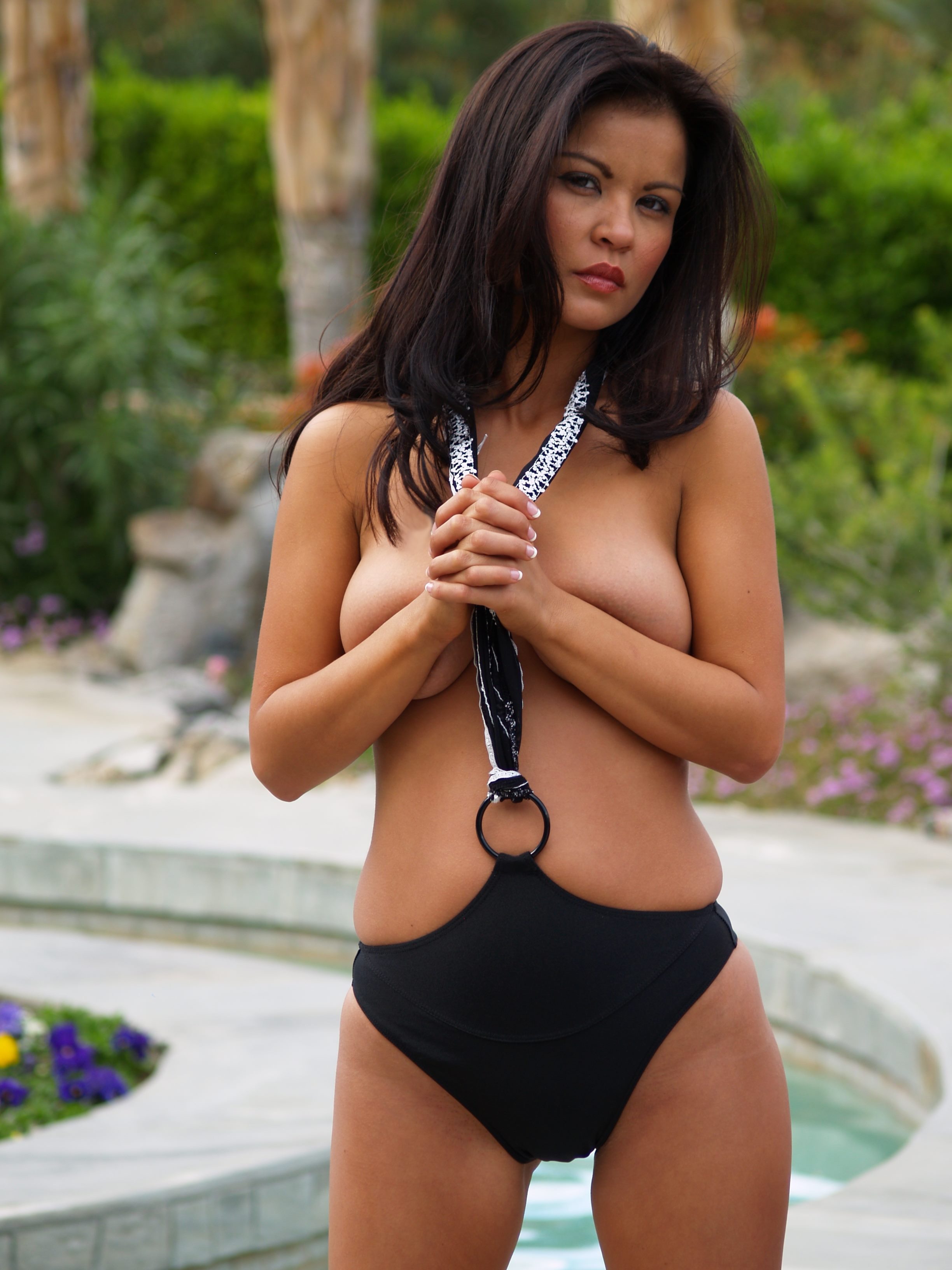 Brigite Convertible Topless - Customer Review

---

Topless Swimsuit 05/01/2014
By Jimmy C
What a great idea. My girlfriend loves it. She wears it like a regular suit on the beach, and when we're alone she lowers the top and ties it around her waist. Hot, hot, hot! Keep up the innovation!
---
Next on our list of topless swimsuits is the Monte Carlo by Brigitewear. This suit is available in Black or Copper and features a thong bottom. It is a very skimpy design, but the material and construction lend it also to being very adept for beach activities and swimming. First introduced in 2005, this topless bathing suit has been seen on beaches all over the world.
Monte Carlo Topless Swimsuit - Customer Review
Average rating:

---

Sexy to the max 12/05/2013
By Sarah k
I bought this to wear on our Caribbean vacation and had no idea how much attention I would receive. Many women were wearing just their bikini bottoms, but this suit got more attention than any of the others. I had to really put my inhibitions aside, but once I was out on the beach it was great. Really revived our relationship, just felt like new person.
---

Love it 10/28/2015
By rood de nooy
The suit is great. Thank you. Do you have a thong or string bottom is that color?
---
Monte Carlo thong topless one piece swimsuit

Monte Carlo 05/03/2016
By Ulrich Sachers

We spend last week in Monte Carlo. Uhhhhh it was too cold. Sexy Looking suit though
---
The Crochet topless thong one piece women's bathing suit. Extremely flattering suit, the see through high panel, thong swimsuit bottom. See through lace style black fabric with pink ties has a unique tummy flattening front panel $59.95
Crochet Topless One Piece Swimsuit -Customer Reviews

---
Crochet topless thong one piece swimsuit

All is perfect 02/22/2016
By Jaques Simon

I'm french and write not easy your curious langage ;-) Cet article nous a apporté une satisfaction totale: qualité du crochet, couleur et allure de l'ensemble, taille parfaite, livraison sans problème, bravo et merci.
---
Crochet topless thong one piece swimsuit

Perfect 01/29/2016
By DR.HEINRICH BACKHAUSEN

The Crochet Topless fit exceptionally well. I'll try to talk the lady into sending you pictures (Do you have an ip address to send them to?) Well, who wonders, French design from a French girl for a French girl!
---
Crochet topless thong one piece swimsuit

Nice Crochet Topless 01/29/2016
By David Smith

Very Nice piece of swimwear
---

One Piece Thong Swimwear Cheeky thong Bikini Swimwear Thong Topless Bathing Suits
G-String Bikini Swimsuits Sheer T Shirts Men's Thong Swimwear Sexy Sheer Bathing Suits
Versailles 1 piece thong topless bathing suit
Monte Carlo topless thong one piece
Topless swimsuit customer reviews
Terra Cotta Inn Clothing optional resort
See the World's top ten beaches for topless bathing suits