Topless Bathing Suits
by Brigitewear
---
Click any link below to go to any of Brigite's sexy women's topless bathing suit pages
---
Brigitewear - sexy topless bathing suits and topless swimwear designed for the mature woman who is neither afraid nor ashamed to show her body, regardless of age or shape. Brigitewear is proud to offer unique swimwear, available only at our factory direct outlet store. All made in the USA, these cutting edge products will set you apart from the crowd. See our new thong swimwear, g-string bikinis and one piece topless swimsuits for women!
Brigite for Brigitewear ™
---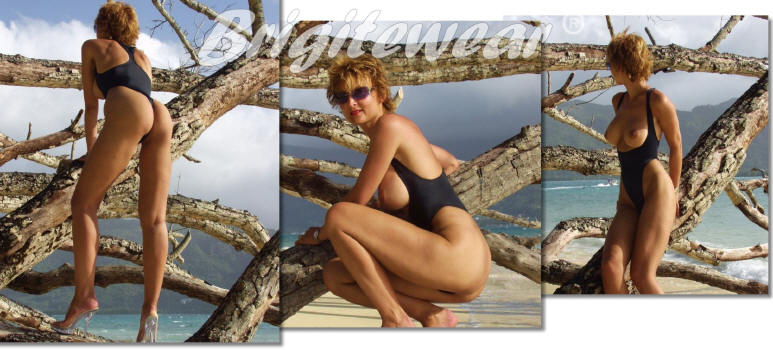 Versailles 1 piece thong topless bathing suit
Sexy one piece topless swimsuit for women with high front for midriff control and racer back $58.95
---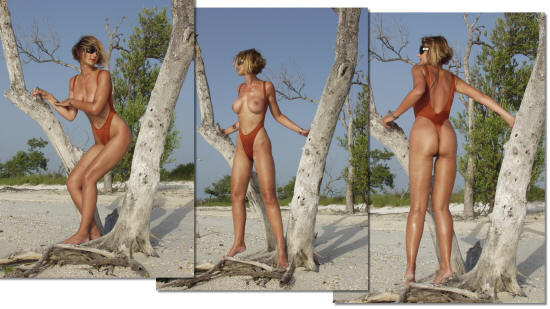 Monte Carlo one piece thong topless bathing suits
Plunging front and back on this topless thong swimwear leaves little to the imagination
---
Bri-G G-String bikini Topless Swimsuit
G-string bikini swimsuits from Brigitewear available with or without tops from $26.95
---
Topless Thong bikini bottoms only
Thong bikini bathing suits from Brigitewear with or without top from $26.95
---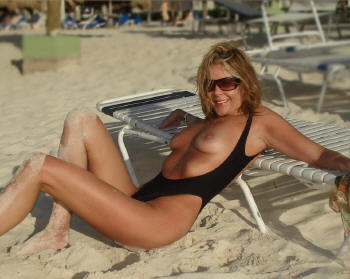 St. Lucia Rio Bottom One Piece Topless Bathing Suit
Sultry Rio bottom one piece topless swimsuit with plunging front and back
---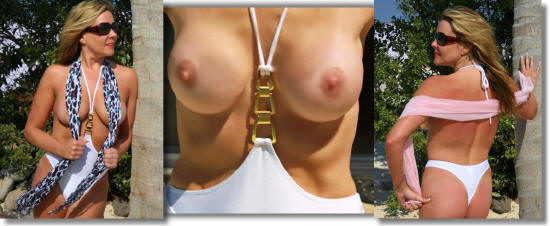 St. Moritz women's One Piece Topless Swimsuit
Unique, understated topless thong or rio bottom swimwear
---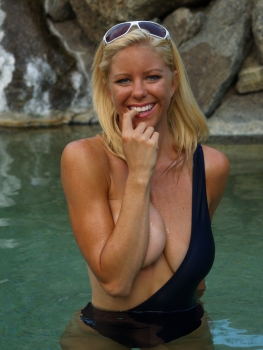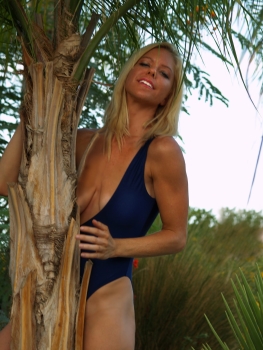 Mono - One Piece Topless bathing suit with Rio bottom
Just like in Sports Illustrated's Swimsuit edition but at half the price, stunning rio bottom one piece topless swimsuit
---
The Brigite Convertible thong or Rio bottom one piece Topless Swimsuit
With 2 top bottom options and 5 top options, this topless swim suit is exciting and versatile
---
See Brigite's insightful magazine interview discussing Topless Swimwear and the North American attitudes toward minimalist swimming apparel here.
Buy sexy designer topless thong swimwear, thong topless bathing suits and sheer swim wear from our online catalog. Add a sensual element to your wardrobe with high fashion men's and women's thong bikini swimwear or one piece thong swimsuits, g-string bikinis and topless bathing suits as well as sexy cover-ups and sheer T shirts, designed and modeled by Brigite for Brigitewear. Fine, high quality, made in the USA designer men's and women's thong swimwear, thong topless bathing suits and gstring bikinis for the mature, confident woman and man.
---
Brigitewear thong swimwear catalog
One Piece Thong Swimwear Thong Bikini Swimwear Thong Topless Bathing Suits Sheer One Piece Swimsuits
G-String Bikini Swimsuits Sheer T Shirts Men's Thong Swimwear Sexy Sheer Bathing Suits Versailles 1 piece thong topless bathing suit
Monte Carlo topless thong one piece
Terra Cotta Inn Clothing optional resort
See the World's top ten beaches for topless bathing suits
---
For a glorious tan, wear nothing at all or....
Brigitewear ™
Sexy designer topless bathing suits to the world ©
---
Brigitewear International Palm Desert, CA USA 92211
---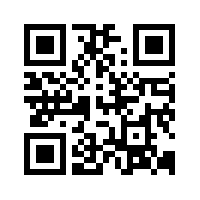 Scan with your Smartphone